Trap Your Moles – Superior Mole Removal Services Near Blue Ash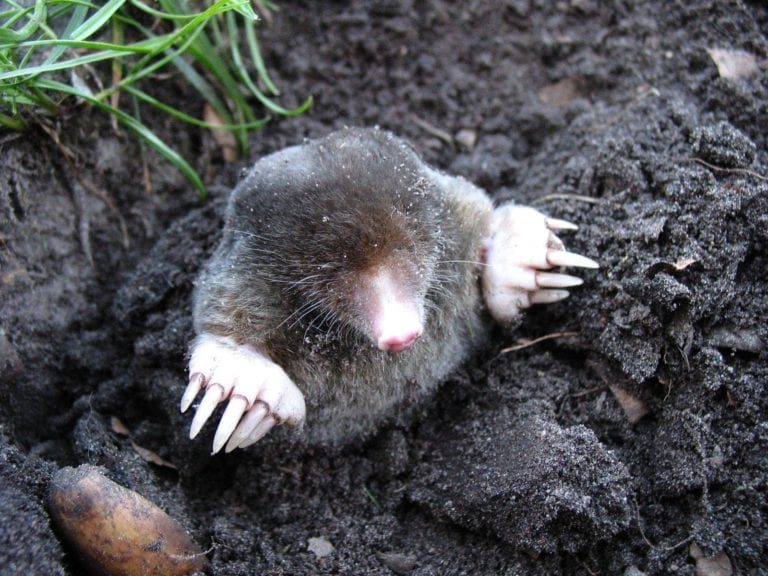 When moles creep into Blue Ash homeowners' yards, Trap Your Moles is the first on the scene. Our customers know they can depend on us for reliable wildlife removal services, including mole, chipmunk, squirrel, and raccoon removal, among others. No matter if your yard is a tiny backyard garden or several acres of property, we'll do any size job with the same quality and professionalism every time. Our results are proven; when moles start tearing up your yard, Trap Your Moles is Blue Ash's trusted mole removal authority.
Blue Ash Moles Will Disappear
Homeowners often struggle to contain and eradicate the Eastern Ground Mole. Persistent and hardy, these small creatures tunnel constantly in search of insects, causing destruction to your property. They don't hibernate, either so they're a year-round nuisance that can even cause sidewalks to cave in from excessive tunneling. And once they've become your unwelcome neighbors, they're difficult to get rid of. Blue Ash homeowners choose us above all other mole removal services because of our proven results. We nip your mole problem in the bud, attacking it head-on before moles can reproduce and cause more problems.
There are many do-it-yourself methods of mole removal on the market, such as poisons or sound sticks. However, most Eastern Ground Moles aren't susceptible to these methods. The best and most effective way to get rid of moles in your yard is to trap them and remove them from the property entirely. Our aggressive, consistent, and effective trapping techniques guarantee that the moles won't come back once we get our hands on them. We'll also provide you with weekly progress updates so you can keep track of the situation, and our methods are always customized to each client. Blue Ash residents can rest easy when we're on the job, as we never leave any project unfinished. We never want to risk the moles returning right when you think they're gone!
Miscellaneous Wildlife Removal Blue Ash
Our specialty may be moles, but that doesn't mean that we can't help with other annoying critters! We have experience in trapping and removing other pesky creatures, including raccoons, squirrels, groundhogs, chipmunks, and others. Get in touch with us about your wildlife issue, and we'll discuss what options you have. Some animals do require special trapping permits or are subject to restrictions. However, we will always do our best to help you with your wildlife issue, no matter what it might be. That's why Blue Ash calls us first when they have a critter problem.
Why Trap Your Moles?
We pride ourselves in being Blue Ash's number one choice for mole and wildlife removal. Our track record is proven; we have an A+ rating from the Better Business Bureau, and our customers consistently leave us positive reviews online. Our fully licensed, skilled trappers are equipped with a variety of traps and tools to accomplish any job. We also have dedicated customer service professionals with extensive trapping knowledge, who can recommend services to you based on your situation. Our dedication is our difference—we follow up with you weekly to show you our progress and inspect your property thoroughly once we're through. Whether your yard is big, small, or somewhere in between, Trap Your Moles is willing to tackle any size project, any time.
Mole-Free Blue Ash
Whether it's rain or shine, Trap Your Moles will be there for you no matter what to provide the best results. Most problems can be assessed with 15 minutes, and we offer free consultations. Don't wait until your yard is destroyed—contact us today and get your yard and your life back.