Trap Your Moles – First-Rate Mole Removal Service Dry Ridge, KY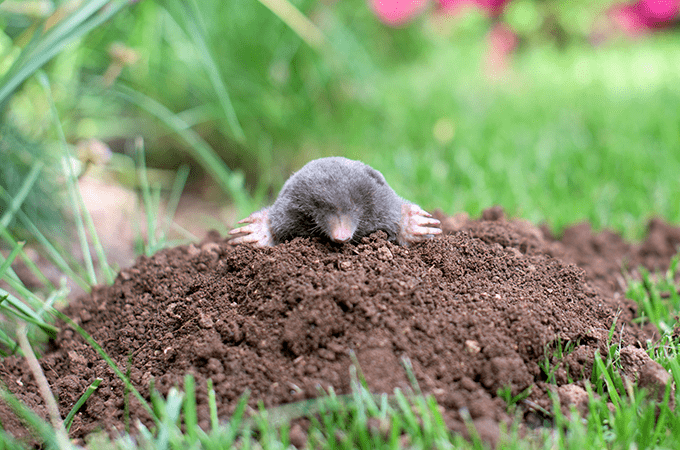 Trap Your Moles is Dry Ridge, KY's go-to mole removal service. Pesky wildlife is no match for our expert trappers; we trap and remove a variety of critters, such as moles, squirrels, chipmunks, raccoons, and more. We're trusted for our dependability and consistent results, no matter what the size of the project. Sprawling parks and estates as well as small urban yards all can rely on Trap Your Moles for reliable mole removal in Dry Ridge, KY.
We'll Wipe Out Dry Ridge, KY Moles
Homeowners everywhere are subject to the destructive power of the Eastern Ground Mole. These pesky critters do not hibernate during the winter, and tunnel in search of insects to eat all year long. Their tunnels can cause a ton of damage to yards, gardens, and even sidewalks should they tunnel enough underneath one. Once your property is subjected to moles, they can be difficult to get rid of. Dry Ridge, KY residents turn to Trap Your Moles to remove mole problems before they become too big to handle—once moles start to reproduce, a small situation can easily turn into an infestation.
Often-touted DIY methods of mole removal, such as sound sticks or poison, unfortunately tend to have lackluster results. The best and most effective way to remove moles from your property is to trap them and remove them entirely. Our methods are consistent, aggressive, and effective, and we'll provide weekly progress reports, so you know exactly where we are in your mole removal process. We also perform thorough inspections to make sure all the moles are gone; we never want to run into a situation where we leave a job half-finished, and the moles return to cause more damage. This attention to detail is why Dry Ridge, KY residents trust us above all others to take care of their mole problems the first time.
Miscellaneous Wildlife Removal Dry Ridge, KY
While 'moles' is in our name, we don't just trap and remove moles from your property. We can work with several other wildlife, including raccoons, squirrels, groundhogs, chipmunks, and more. Dry Ridge, KY homeowners know they can rely on us to help take care of destructive wildlife, no matter what. Some animals do require trapping permits or are subject to restrictions, but if you contact us we will do our best to take care of your problem as efficiently as possible.
Why Trap Your Moles?
Dry Ridge, KY continues to choose Trap Your Moles as their go-to mole removal service for a number of reasons. We have an A+ rating from the Better Business Bureau, and we consistently receive positive reviews from our clients. The proof is in the pudding—our results speak for themselves, and we pride ourselves in taking a customized approach for each job. All of our trappers are licensed and are well-versed in a variety of trapping techniques with many types of equipment, so they're never caught off-guard by a situation. We always follow up on every job, too, and provide you with weekly progress reports so you're up to date on our efforts. It doesn't matter if you have a small yard or a large estate, no job is too big or too small for our professional trappers.
No More Moles, Dry Ridge, KY!
Whether it's rain or shine, winter or summer, Trap Your Moles will work for you tirelessly to get rid of your mole problem once and for all. When you call us, we can often assess your situation in just 15 minutes, and consultations are always free. Contact us today and we'll get started on eradicating your mole problem for good.