Trap Your Moles - Mason's Leading Mole Removal Service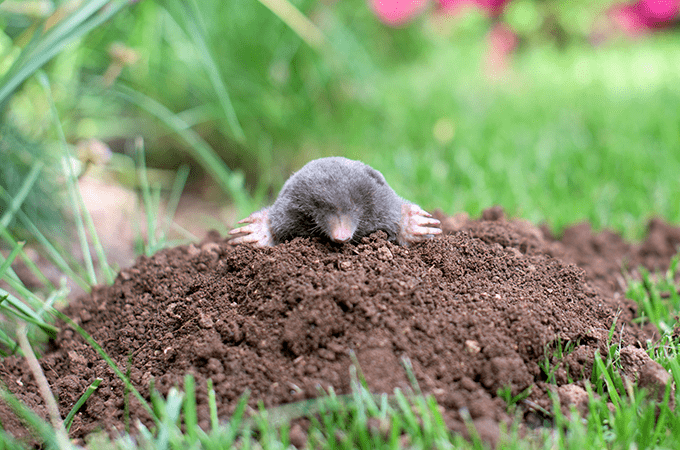 Trap Your Moles provides unparalleled customer service and results for the Mason area. Our team will be the first to arrive on the scene when moles show up in your yard. Homeowners utilize our expert services to prevent moles, squirrels, raccoons, chipmunks, and more from destroying their properties. Whether your problem is one mole or many, or whether your yard is large or small, Trap Your Mole is the solution for Mason residents who want to get rid of moles forever.
No More Moles in Mason
The Eastern Ground Mole can be a homeowner's worst nightmare in terms of yard pests. They burrow constantly, looking for insects to consume. They don't hibernate so they're a problem all year, and their tunnels can cause huge damage to your lawn, gardens, and even your sidewalks! Moles can be extremely difficult to get rid of once they start reproducing. We are Mason homeowners' go-to team when moles set up home in their garden because we get to the root of the issue, fast.
Poison pellets and sound sticks are often used by DIYers in an effort to remove moles. Unfortunately, these methods are seldom effective against the Eastern Ground Mole. Our team of trappers are aggressive, effective, and consistent and they will trap and eliminate moles from your property for good. While we get to work on your mole problem, we'll keep you apprised by sending you weekly progress reports. Every situation is unique, so we'll plan the best solution for your problem. We work diligently to ensure the residents of Mason don't have mole problems again.
Other Mason Wildlife Issues Resolved
Our specialty may be moles, but we're versatile trappers! Our services extend to other types of wildlife that pose a threat to your property. Our expert trappers handle squirrels, chipmunks, raccoons, and groundhogs with ease. Let us know about the wildlife problem you are facing, and we'll figure out the best solution for you. We will work diligently to assist you in removing the problem even if there are certain restrictions on trapping creatures or permits are required.
Why Trap Your Moles?
Trap Your Moles is trusted by Mason residents for all their wildlife removal needs for many reasons. With a BBB A+ rating, and our clients consistently leaving us positive reviews, we have achieved a high reputation within the business community. There is no one better than us when it comes to providing quality service and results; all of our licensed trappers are well qualified to handle any wildlife problems and all of our customer service professionals are knowledgeable of all trapping methods so they may recommend you the best solution possible. You'll also always know how we're doing on your project because we send you progress reports every week. We can handle any size job, whether it is a small backyard garden or a large condo complex.
Hit the Road, Mason Moles
Regardless of the time of year or the weather conditions, Trap Your Moles has the dedication and drive to eliminate any and all wildlife problems. Our consultations are free, and we can assess most situations within 15 minutes. Don't wait any longer while moles tear up your yard. Contact us today to reclaim your yard and your life.