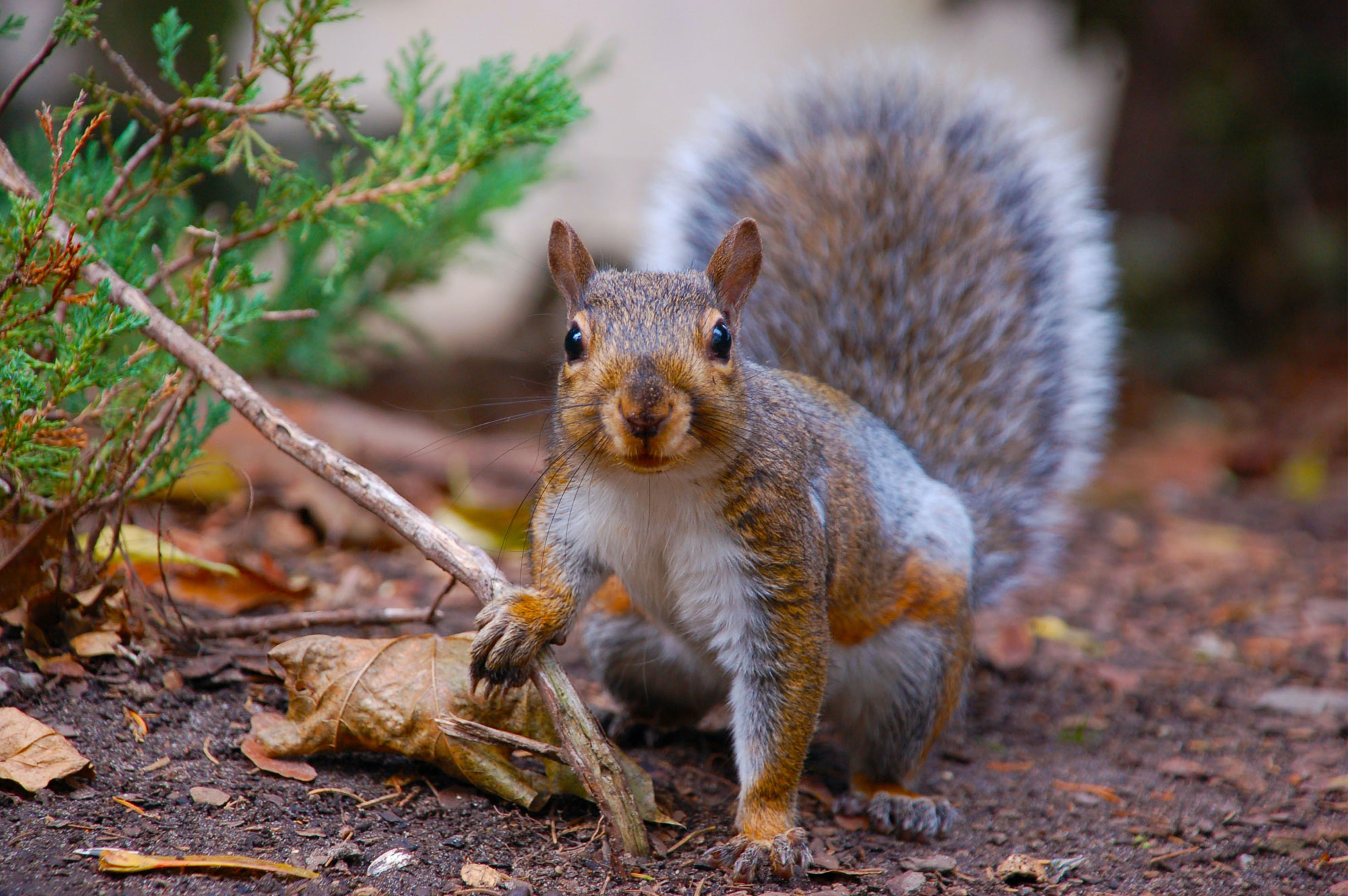 Their bushy tails and tiny paws might be cute, but squirrels can be a nuisance for homeowners in Cincinnati. The Eastern Gray Squirrel is the most common squirrel species in Cincinnati, and while it's mostly a harmless, outdoor critter, it can easily cause chaos in homes and gardens. They can especially cause trouble when they move into your home, requiring squirrel trapping services.
The most common issues that squirrels can cause include:
Damage to your home, including siding, shingles, insulation, and wiring.
Damage to your garden and plants.
Health problems due to bacteria from droppings or allergies.
Carrying diseases or parasites that are transmissible to humans.
While squirrels overall can be healthy to the Cincinnati ecosystem, these problems can quickly get out of control if squirrels are left unchecked. There are several signs you might have a squirrel problem that would require squirrel trapping services. Keep reading for our list of the top signs you need squirrel trapping services.
You See Squirrel Droppings
Seeing animal droppings in your basement or attic is always a cause for concern. But how do you know that the droppings you've found belong to a squirrel and not some other pest? Squirrel droppings can look like rat droppings, but there are a few key features that distinguish them from rat droppings:
They're smaller than rat droppings, around 3/8 of an inch long and 1/8 of an inch in diameter.
They're rounded on the edges and shaped like coffee beans.
They can be shiny when fresh, but they dry and change color to a paler hue.
They're a different color than rat droppings; squirrel droppings are brown with tints of red, tan, or green, while rat droppings are dark brown or black.
Squirrels don't defecate while walking, so they will leave piles instead of scattered pellets.
They tend to defecate in the same area over time.
If you notice droppings matching this description, it might be time to call for squirrel trapping services.
You Hear Strange Noises in Your Attic or Walls
Unless your home is very old, it's likely pretty quiet. If you suddenly start to hear scurrying, scratching, or chewing noises in your ceiling or walls, there is a good chance squirrels have moved in. Stay quiet and listen when you hear new noises. If you suspect squirrels, get in touch with a wildlife trapping service like Trap Your Moles to do an inspection.
You Notice Damage to Your Home
Squirrels will chew and scratch at human structures to find an entry point inside. They can chew through your siding and shingles, chew on wires inside and out, and tear up insulation. You may also notice damage to bird feeders and patio furniture outside. They can rip open garbage bags looking for food and put teeth marks on drywall. Look closely at your home indoors and out to check for signs of damage. They could be attributed to other critters, like raccoons or mice, but squirrels are just as likely a culprit.
You Notice Damage to Your Garden or Other Plants
Squirrels are omnivores, so they'll munch on just about anything they can get their paws on. Your garden is a great source of food for them. If you notice your petunias are getting chomped, you may need to invest in squirrel trapping services.
Look for damage to tree bark, flowers, shrubs, and grass. If you grow vegetables or fruit in your backyard, squirrels are huge fans of berries and leafy green vegetables. If your plants are being dug up or munched on and if you notice other signs of squirrels, it's likely they're the ones to blame.
You Notice a Foul Smell in Your Home
If squirrels have made a home in your attic, they tend to wander throughout the structure of your home. They can easily fall behind drywall and become trapped. If you've heard frantic scratching for a day or so, and then start to notice a foul odor, the stuck squirrel likely died inside your home and is starting to decay. The noxious odors, especially in the summer, can cause discomfort for the humans in your home, and potentially be a health hazard.
Another smelly sign of squirrels is urine damage to your ceiling, walls, or floor. A family of squirrels living in your attic will have to go some time, and what better place than inside your home? You may notice what looks like water damage on your ceiling, accompanied by an odor. Get in touch with a wildlife trapping service fast to remove the squirrel problem before you tackle cleaning up their mess.
You See More Squirrels Outdoors
The final and most obvious sign that you may have a squirrel issue in your home or yard is seeing more squirrels outside in the first place. If you've noticed any of the other signs above and are catching more glimpses of bushy tails in your grass or trees, the chances are good that you're unwittingly playing host to a family of squirrels. Keep an eye on your roof or fences. If squirrels are suddenly hanging out in these places, they may have found a way inside. Check your home closely for damage or an entry point if you've seen an uptick in squirrels in your yard.
Call Trap Your Moles for Squirrel Trapping
Trap Your Moles offers many wildlife removal services in Cincinnati, not just mole trapping. If you have noticed any of the above signs of squirrel damage, get in touch with the Cincinnati, Dayton, and Northern Kentucky wildlife removal experts for squirrel trapping services. You don't have to watch your home and yard be taken over by squirrels. We've got the experienced trappers and the permits needed to get rid of your squirrel problem for good.
Use our contact form or give Trap Your Moles a call today. We can often diagnose a wildlife problem over the phone and set up your first visit as soon as possible.